A Moment to Remember : Aqil Dah Boleh Makan Nasi Keras
Monday, April 9, 2018 • April 09, 2018 •
0 comments
kredit : atok google image
Assalamualaikum dan selamat pagi.
Dah masuk 23 Rejab dah. Maksudnya tak lama lagi nak masuk Syaaban. Sangat-sangat cepat kan. Anak pon dah banyak belajar benda baru termasuklah suasana baru.
Alhamdulillah kesan positif pertama selepas hantar aqil masuk tadika adalah dia dah mula makan nasi keras. sebelum ni dia tolak mentah-mentah nasi keras. kali ni ilaa try bagi dengan sup. dah standby buka mulut tunggu orang suap.
Suka nya bila si manja mula makan. sebelum ni dia makan nasi bubur je. kalau tak masin tak sah. next time inshaAllah nak try bagi nasi dengan ayam pulak. mana tahu dia terima. inshaAllah. 3rd day kurang sikit risau tak macam hari pertama.
Mil and fil bagitahu Aqil suka school walaupun kadang-kadang nangis jugak. Harap-harap cukup seminggu dia dah boleh biasakan diri dengan school. pandai berdikari dan macam-macam lagi. Kuatkanlah hati kami Ya Allah.
Jauhkanlah anak kami daripada bencana-bencana daripada manusia mahupun persekitaran sekeliling. aamiin
Mama Moments : Aqil 1st School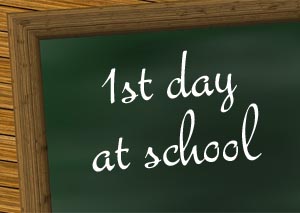 imej atok google
Assalamualaikum w.b.t
Semalam satu episod sedih buat mama Aqil. Satu pengalaman baru sebagai mak. Satu pengorbanan besar buat ibu-ibu yang bekerja.Satu kewajipan buat ibu yang bekerja.Suspen tapi itulah kenyataan kan.
Semalam 08 April 2018 Aqil masuk tadika homalee. Walaupun umur dia baru 1 tahun 3 bulan, ilaa terpaksa hantar dia disebabkan mak ilaa kena jaga baby newborn . So, ilaa tak nak susahkan dia. Ilaa and asben decide hantar ke tadika homalee.
Ilaa rasa yang ilaa ni seorang mak yang kejam bila hantar anak kecil lagi ke tadika. Kita bercerita maybe ada yang faham ada yang tak. Orang yang menanggung je rasa kan. Demi kebaikan anak dan demi kebaikan semua, ilaa paksakan diri untuk hantar jugak anak ke tadika.
Walaupun berat sangat hati ni nak lepaskan tapi terpaksa demi melihat dia membesar dengan baik. Biar dia berdikari dan mampu berkawan dengan semua orang. Pengorbanan itu nampak kecil walhal itu pengorbanan terbesar bagi setiap ibu.
Merelakan anak sendiri dijaga oleh orang luar. Merelakan anak disuap makan orang luar. Dimandikan dan ditidurkan. Kau ghase semua tu mak dia mintak ke?Nak cari sesuap nasi demi anak tercinta bukan semudah ABC. Baca dan sebut.
Umpama kau baru nak belajar membaca. Susah untuk permulaannya inshaAllah senang bila dah fasih. ilaa pon macam tu jugak. Setiap orang akan mengalami fasa ini tetapi dengan cara berbeza-beza. Kalau hati dia sekeras batu pon, bila hal berkaitan anak semuanya tumpas.
1st day Aqil dekat school, kami laki bini cuti. Tak nak terlepas saat pertama kali hantar anak ke tadika. Pada mulanya dia merengek nak ikut ilaa balik lepas tu terus kakak guru ambil bawa masuk. Bimbang tak jadi hantar anak masuk tadika kot.
Selepas beberapa jam kemudian, tiap sejam tengok jam. Lambatnya masa berputar nak peluk anak. Bila ambil Aqil dekat school, tengok mimik muka dia macam sedih dan merajuk sebab tinggalkan dia di tempat baru. Sorry sayang,mama buat macam tu untuk kebaikan Aqil jugak.
Air mata ni dah gugur banyak kali. Letak anak tadika je pon macam berpisah selamanya. Senang je kan bila bercakap ni kalau tak pakai hati. InshaAllah semuanya going well. Cuma makan masa sikit untuk si Aqil suaikan diri di tempat baru.
Hari ni 2nd day kakak guru cakap dia nangis jap pastu sambung main. Pastu bila ingat mama papa, dia nangis lagi sampai mengantuk dan tertidur. Itu pun kejap je tidur sebab tak biasa dkt tempat baru. Gugur lagi air mata bila dengar camtu.hmmm
Semoga Aqil dpt sesuaikan diri dengan cepat ye syg!
Mama miss u soo soo much!


Welcome to my blog . Please navigate around happily. And follow me if you like to ;> Don't forget to leave your footsteps so I can visit you back ;3 bold italic underline strike



Diary About Link Stuff


Put your cbox code here ! :)
< Template By: Umi Humaira
Big helped: Wana
Owner: IlaaSuhailaa