Cheapmon atau Kenan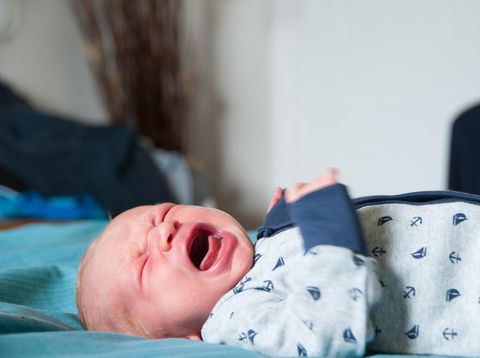 Assalamualaikum and selamat pagi.
Alhamdulillah hari ni dapat pergi kerja dengan aman. Kenapa?Meh ilaa share pengalaman ilaa sebagai ibu muda yang diuji dengan anak terkena cheapmon or kenan . Seminggu yang sukar untuk ilaa dan asben menghadapi situasi ni. Parents yang dah biasa terkena benda ni, dorang akan paham macam mana perasaan dan cara-cara mengatasi semua ni.
Minggu lepas, after balik daripada Kedah si Aqil (3bulan) mula terkena demam yang quite panas. Sebelum ni badan dia dah mula naik ruam merah-merah seluruh badan dan muka :( . Mak mana tak sedih tengok anak menangis setiap kali panas dan gatal-gatal badan. First ilaa ingatkan naik chicken pox but my expectation is wrong. Aqil tak boleh tido malam. Asyik cakar muka dia macam serba-serbi tak kena. Terpaksa pakaikan Aqil mitten kalau tak habis berdarah muka dia. Ilaa dah mula buntu :(.
Allah Maha Kuasa. Pagi tu ilaa sentuh belakang kepala Aqil, then terjumpa 2 bijik kecil di kiri dan kanan kepala Aqil. Bila sentuh, biji tu macam lari. Terus ilaa bagitahu maa abah dan dorang cakap tu lah kenan. Patotla Aqil rasa miang-miang gatal seluruh tubuh. Pantang cuaca panas, mesti dia meraung. Tak tahu nak cakap macam mana bila dah jadi macam ni. Ingatkan terkena hama pon hado.
Maa suggest ilaa pi rawatan tradisional dulu. Pi lah jumpa tok wea (usia 80 lebih) . Pak cik memang pakar bab-bab sakit baby. ni kira kali ke dua ilaa pergi masa aqil umur 40 hari. Pak cik ni detect dia ada sawan tangis, kenan and sarat. Hamek kau, tiga serangkai jumpe. Lepas dia baca ayat-ayat suci al-quran, dia cakap kena sembur dengan buah pinang biar kecut biji kenan tu.
Pastu tiap pagi letak dekat lelangit sebelum gosok gigi dan gentel tempat biji kenan tu. Dah ramai ilaa jumpa dorang suggest macam ni tapi ilaa selalu je lupa. Nak buat canne, Aqil tak tido malam and i is ting tong ler pagi tu. After pi jumpe tok wea tu, ilaa pi jumpa pakar kulit. Dia cakap anak ilaa ni kulit sensitif. Hmmm, makin ramai jumpe makin banyak pula yang di detectnya.
So, Dr bagi lah ubat sapu kulit untuk kurangkan gatal. Dia cakap ada ruam dalam mulut Aqil menyebabkan dia panas dan meraung. Tak puas hati lagi dengan rawatan tu, Baba (mertua) ajak berubat tradisional dengan Pak su. kali ni ilaa harap sangat Aqil sembuh. Bila dah sampai rumah paksu, tup-tup dia tak sihat baru keluar daripada hospital. Frustnye tak boleh nak cakap.
Allah itu Maha Mengasihani. Rezeki Aqil Paksu sanggup rawat Aqil walaupun keadaan dia uzur. Alhamdulillah. Orang cakap, kenan ni biar dia naik dulu ruam-ruam tu sampai masa dia akan surut tapi baby akan kepanasan melampau lah disebabkan kenan ni. Kesian. Nanges ilaa tengok baby Aqil camni. Wajib kena tidur tempat ada aircond :(.
Alhamdulillah, selepas hampir seminggu diuji dengan kesakitan yang dialami Aqil, suhu badan Aqil dah stabil dan ruam dah menghilang. Biji kenan still ada lagi dan ilaa doa sangat-sangat ruam tu dah tak naik nanti Aqil nanges lagi. entah-entah, maknya yang meraung.
Sebelum ilaa terlupa, korang boleh mandikan anak dengan mandian daun dara (tak tahu spesifik nama apa) or sabun daun gelanggang. Terus kering ruam-ruam merah tu. Alhamdulillah. Kita ikhtiar hanya Allah yang menentukan semuanya. Syukur Allah atas ujian dan kesakitan kerana ujian ni buat ilaa kenal erti sabar dan kerjasama.
#mamamoments


Welcome to my blog . Please navigate around happily. And follow me if you like to ;> Don't forget to leave your footsteps so I can visit you back ;3 bold italic underline strike



Diary About Link Stuff


Put your cbox code here ! :)
< Template By: Umi Humaira
Big helped: Wana
Owner: IlaaSuhailaa