Risiko Talasemia
Sunday, December 20, 2015 • December 20, 2015 •
0 comments
Talasemia adalah penyakit kecacatan darah. Ia merupakan keadaan yang diwarisi, iaitu diwariskan daripada keluarga kepada anak. Kecacatan gen menyebabkan hemoglobin dalam sel darah merah menjadi tidak normal.Talasemia adalah penyakit kecacatan darah. Ia merupakan keadaan yang diwarisi, iaitu diwariskan daripada keluarga kepada anak. Kecacatan gen menyebabkan hemoglobin dalam sel darah merah menjadi tidak normal.

Mereka yang mempunyai penyakit Talasemia tidak dapat menghasilkan hemoglobin yang mencukupi dalam darah. Hemoglobin adalah bahagian sel darah merah yang mengangkut oksigen daripada paru-paru ke seluruh tubuh.

Semua tisu tubuh manusia memerlukan oksigen. Akibat kekurangan sel darah merah yang normal menyebabkan pesakit kelihatan pucat kerana paras hemoglobin (Hb) yang rendah (anemia).

Sel darah merah berfungsi membekalkan oksigen kepada tisu dalam badan manusia. Kekurangan sel darah merah bagi membekalkan oksigen akan mengakibatkan pesakit talasemia berasa lesu, tidak bermaya, dan mungkin sesak nafas sekiranya paras hemoglobin semakin menurun.

Mereka yang mengidap talasemia tidak mampu membekalkan seluruh sel tubuh mereka dengan bekalan oksigen yang mencukupi akibat kekurangan hemoglobin dalam sel darah merah. Tisu yang ketiadaan oksigen gagal berfungsi dengan baik.

Dengan itu tubuh mereka menjadi lemah, gagal berkembang dengan baik, dan mereka boleh menjadi sakit teruk.

Pesakit talasemia biasanya mempunyai paras hemoglobin yang rendah iaitu kurang daripada 10g/dl. Mereka yang mengidapnya mempunyai kelebihan melawan penyakit malaria.

Dua Jenis Talasemia :
1. Talasemia Minor
Talasemia minor merujuk kepada mereka yang mempunyai kecacatan gen talasemia tetapi tidak menunjukkan tanda-tanda talasemia atau pembawa.

2. Talasemia Major
Talasemia major merujuk kepada mereka yang mempunyai baka talasemia sepenuhnya dan menunjukkan tanda-tanda talasemia.

Pembawa
Biasanya penghidap talasemia tidak menunjukkan apa-apa tanda atau masalah kesihatan. Pengesanan hanya boleh menurunkan gen talasemia kepada anak-anaknya. Sekiranya salah seorang ibu atau bapa adalah pembawa, keadaan berikut boleh berlaku. Peratusan risiko untuk setiap kehamilan :
• 50 peratus kemungkinan adalah pembawa
• 50 peratus kemungkinan adalah normal
• Tiada anak yang menghidap talasemia (talasemia major)

Pesakit Talasemia
Sekiranya kedua-dua ibu dan bapa adalah pembawa, keadaan berikut boleh berlaku;
• 25 peratus kemungkinan anak mereka adalah pesakit talasemia. • 50 peratus kemungkinan anak mereka adalah pembawa.
• 25 peratus kemungkinan anak mereka adalah normal.

Tanda Dan Gejala
Biasanya anak-anak pembawa Talasemia kelihatan normal sewaktu dilahirkan. Bagaimanapun, mereka akan mulai mengalami masalah anemia yang serius apabila mencapai usia di antara 13 hingga 18 bulan.
• Tubuh pucat,lemah, dan gelisah.
• Anemia yang serius boleh menyebabkan kesukaran bernafas.
• Jaundis.
• Tumbesaran terbantut.
• Perut buncit disebabkan pembengkakan hati dan limpa.
• Perubahan pembentukan tulang muka, pipi, dan rahang yang tidak normal(tanda lewat).

Rawatan
• Pesakit perlu menjalani transfusi darah berterusan setiap bulan.
• Transfusi darah berterusan akan menyebabkan pengumpulan zat besi di dalam organ penting badan seperti hati, jantung, dan kelenjar endokrin yang akhirnya merosakkan fungsi organ-organ tersebut.
• Rawatan penyingkiran zat besi berlebihan perlu dilakukan dengan suntikan ubat Desferrioxamine.
• Pemindahan sum-sum tulang sekiranya ada penderma yang sesuai di kalangan keluarga.
Saringan Talasemia
Saringan ujian darah untuk Talasemia boleh dijalankan di semua klinik dan hospital, sama ada kerajaan atau swasta. Jalani ujian darah tersebut untuk mengetahui status penyakit. Pesakit talasemia memerlukan transfusi darah setiap bulan. Tanpa rawatan yang sempurna, beberapa komplikasi boleh berlaku dan lazimnya mereka akan meninggal dunia di usia remaja.

Dalam kes talasemia yang teruk, komplikasi berikut boleh berlaku :

Kecacatan Tulang
Talasemia boleh membuatkan tulang sumsum mengembang. Ini menyebabkan tulang untuk melebar. Kesan ini mengakibatkan struktur tulang yang tidak normal terutamanya pada wajah dan tengkorak. Pengembangan tulang sumsum juga membuatkan tulang menipis dan rapuh sekali gus meningkatkan peluang tulang untuk patah.

Pembesaran Limpa (Splenomegaly)
Limpa membantu tubuh untuk menentang jangkitan dan menapis bahan-bahan tidak diperlukan seperti sel-sel darah lama atau yang telah rosak. Talasemia sering disusuli dengan kerosakan sejumlah besar sel-sel darah, menjadikan limpa perlu bekerja lebih keras daripada normal. Ini menjadikan limpa untuk membesar.

Splenomegaly boleh menjadikan anemia semakin teruk. Ia juga boleh mengurangkan kehidupan sel-sel darah merah yang dipindahkan. Jika limpa menjadi terlalu besar, ia mungkin perlu dikeluarkan dan dibuang.

Kadar Pertumbuhan Yang Perlahan
Anemia boleh menyebabkan pertumbuhan kanak-kanak menjadi perlahan. Akil baligh juga boleh terbantut dalam kanak-kanak yang menghidap talasemia.

Masalah Jantung
Masalah jantung seperti kegagalan jantung kongestif dan ritma jantung abnormal boleh dikaitkan dengan talasemia teruk.
Life Quotes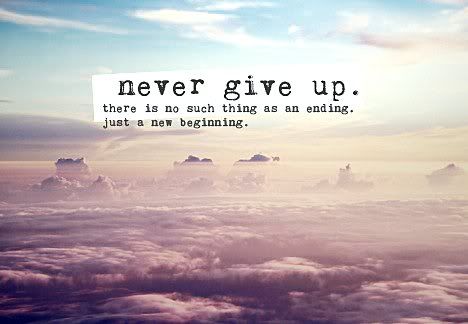 Assalamualaikum..
Hai awak! lagi 11 hari tahun 2015 akan meninggalkan kita. umur dah makin cantik meningkat.ngeee. nak bercakap pasal status lagilah kan. Never give up . There is no such thing as an ending. Just a new beginning. setuju tak dengan quotes kat atas? tak setuju, angkat kaki jela. *kidding. Sepatutnya dalam kamus hidup kita no word GIVE UP. kenapa kena setuju dengan quotes tu?
Kita as human being, memang tak pernah lari diuji dengan pelbagai ujian. Yes, ayat pertama akan keluar daripada mulut kita adalah give up. ilaa percaya bukan ilaa sorang je pernah terdetik perkataan tu bahkan korang dekat luar sana pon sama kan?kita bukan Rasul yang maksum yang boleh terhindar daripada dosa. betul tak?ambil pengajaran dengan hidup kita yang lepas bukan berpaling ke belakang untk terus jatuh, jatuh dan jatuh dan terus menyalahkan takdir kenapa jadi gini gitu.
Yes, ilaa pon rebah lah jugak if diduga dengan ujian yang berat tapi SubhanaAllah jangan sesekali tinggalkan Allah. my mean jangan tinggal solat wajib dan solat sunat. percayalah, if korang lakukan kedua-dua solat tersebut, Allah akan tolong korang ,ringankan beban dan tenangkan hati untuk meneruskan hari-hari seterusnya. tak caya?silaa buat continously secara seminggu. cer tengok hasil pada diri dan hati.
Wahai sayang semua, jangan pernah menyalahkan takdir. Perancangan Allah melebihi segalanya. Dia tahu apa yang terbaik untuk kita. Dia ambil apa yang tak perlu dalam hidup kita dan menggantikan yang lebih baik lagi untuk kehidupan seterusnya. Bercakap, menulis dan memberi nasihat itu senang tapi yang merasa tu yang menanggung sakit . kita ambil yang positif then avoid from negatif. I've learn a lot of new things from FP. He always give moral support to me when I facing my hardest time.
Hati dan perasaan itu lebih jauh sukar mencari penawar berbanding dengan luka yang boleh dilihat luarannya. Kita mampu berlakon dan terus berlakon macam nothing happen. Akhirnya air mata jugaklah yang jadi peneman diri.Nevermind, carilah tempat yang damai untuk disujud. Berkomunikasi lah dengan Pencipta kerana Dia Maha Mengetahui dan Maha Mendengar setiap titipan hambaNya. InshaAllah. Kuat itu bermula daripada hati. Umpama akar tunjang yang mampu membuatkan pokok itu terus berdiri tanpa goyah walaupun dirempuh hujan dan panas dan musim yang mencabar.
nota kaki:
Kita merancang dengan cita-cita, Allah merancang dengan cintaNya. wallahualam


Welcome to my blog . Please navigate around happily. And follow me if you like to ;> Don't forget to leave your footsteps so I can visit you back ;3 bold italic underline strike



Diary About Link Stuff


Put your cbox code here ! :)
< Template By: Umi Humaira
Big helped: Wana
Owner: IlaaSuhailaa