Life Quotes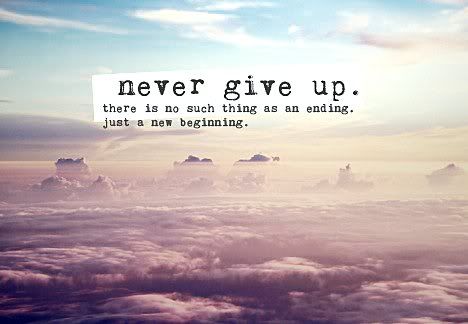 Assalamualaikum..
Hai awak! lagi 11 hari tahun 2015 akan meninggalkan kita. umur dah makin cantik meningkat.ngeee. nak bercakap pasal status lagilah kan. Never give up . There is no such thing as an ending. Just a new beginning. setuju tak dengan quotes kat atas? tak setuju, angkat kaki jela. *kidding. Sepatutnya dalam kamus hidup kita no word GIVE UP. kenapa kena setuju dengan quotes tu?
Kita as human being, memang tak pernah lari diuji dengan pelbagai ujian. Yes, ayat pertama akan keluar daripada mulut kita adalah give up. ilaa percaya bukan ilaa sorang je pernah terdetik perkataan tu bahkan korang dekat luar sana pon sama kan?kita bukan Rasul yang maksum yang boleh terhindar daripada dosa. betul tak?ambil pengajaran dengan hidup kita yang lepas bukan berpaling ke belakang untk terus jatuh, jatuh dan jatuh dan terus menyalahkan takdir kenapa jadi gini gitu.
Yes, ilaa pon rebah lah jugak if diduga dengan ujian yang berat tapi SubhanaAllah jangan sesekali tinggalkan Allah. my mean jangan tinggal solat wajib dan solat sunat. percayalah, if korang lakukan kedua-dua solat tersebut, Allah akan tolong korang ,ringankan beban dan tenangkan hati untuk meneruskan hari-hari seterusnya. tak caya?silaa buat continously secara seminggu. cer tengok hasil pada diri dan hati.
Wahai sayang semua, jangan pernah menyalahkan takdir. Perancangan Allah melebihi segalanya. Dia tahu apa yang terbaik untuk kita. Dia ambil apa yang tak perlu dalam hidup kita dan menggantikan yang lebih baik lagi untuk kehidupan seterusnya. Bercakap, menulis dan memberi nasihat itu senang tapi yang merasa tu yang menanggung sakit . kita ambil yang positif then avoid from negatif. I've learn a lot of new things from FP. He always give moral support to me when I facing my hardest time.
Hati dan perasaan itu lebih jauh sukar mencari penawar berbanding dengan luka yang boleh dilihat luarannya. Kita mampu berlakon dan terus berlakon macam nothing happen. Akhirnya air mata jugaklah yang jadi peneman diri.Nevermind, carilah tempat yang damai untuk disujud. Berkomunikasi lah dengan Pencipta kerana Dia Maha Mengetahui dan Maha Mendengar setiap titipan hambaNya. InshaAllah. Kuat itu bermula daripada hati. Umpama akar tunjang yang mampu membuatkan pokok itu terus berdiri tanpa goyah walaupun dirempuh hujan dan panas dan musim yang mencabar.
nota kaki:
Kita merancang dengan cita-cita, Allah merancang dengan cintaNya. wallahualam


Welcome to my blog . Please navigate around happily. And follow me if you like to ;> Don't forget to leave your footsteps so I can visit you back ;3 bold italic underline strike



Diary About Link Stuff


Put your cbox code here ! :)
< Template By: Umi Humaira
Big helped: Wana
Owner: IlaaSuhailaa